HOW BIG ARE THE RINGS?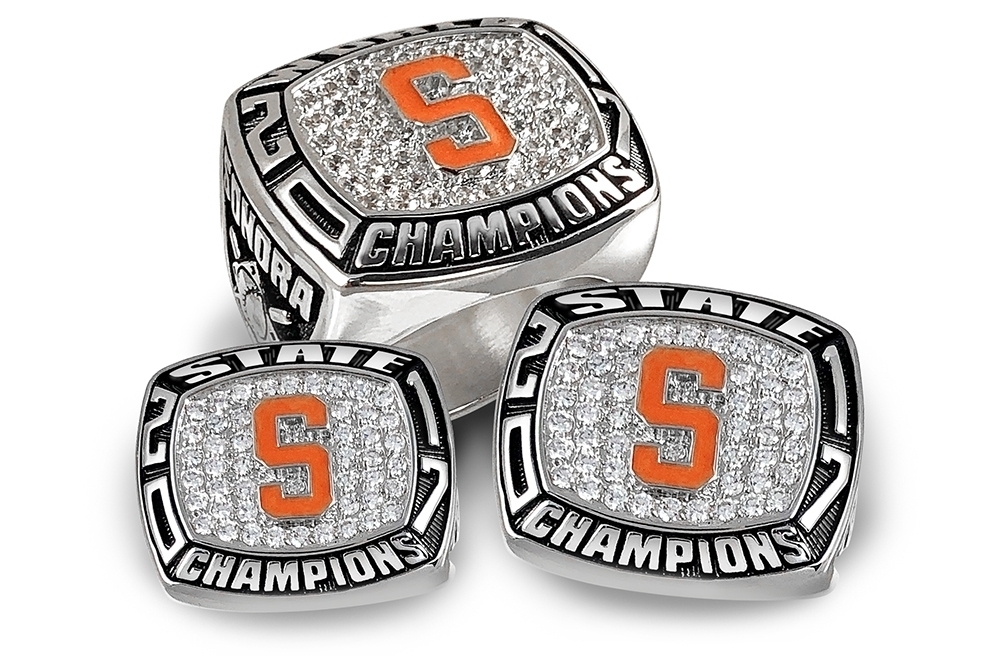 ANY SIZE! Our standard sizes are XL, XXL and XXXL, but we can make the rings smaller or larger if preferred.
WHAT CAN I HAVE ON THE RINGS?
Absolutely anything! Allow our design experts to work with you to recognize your most important accomplishments on the top and sides of your ring. Include your logo, accomplishments, year, record, name, jersey number and more!
WHAT IS THE MINIMUM ORDER?
12 rings per style
how long for delivery?
Championship ring production involves many hand made steps and production time is typically 8-10 weeks.
WHAT KIND OF WARRANTY IS OFFERED?
Our Value Series rings come with a one year limited warranty.
HOW DO I GET STARTED?
Click on the REQUEST QUOTE box found on each individual ring page. If you have questions or would like to discuss options by phone, we are always happy to talk with you! Our toll free number is 1-800-326-8463. Let our design experts help you select the perfect ring to commemorate your season and accomplishments.
HOW DO I GET EVERYONE SIZED?
Once your artwork proof has been approved and you are ready to order, we will ship you a complimentary ring sizer. You may also have your team members visit a local jeweler for a fast (and typically free) ring fitting.
Please note our Value Series rings are restricted to a size range of 9 consecutive finger sizes, including half sizes.  For example, if your smallest finger size is 9,  your available sizes would be 9, 9.5, 10, 10.5, 11, 11.5, 12, 12.5, 13.  Size range always starts on the whole size.  This sizing restriction does not apply to our Select Stock and Premier Custom Series rings.
HOW DO I ORDER?
Once you have everyone sized, please email us your roster showing name, jersey number (if applicable) and ring size. We also need your written artwork approval and a 50% deposit or school purchase order to start production.
WHAT IF I DON'T SEE THE TYPE OF RING I'M LOOKING FOR?
Please ask! We can do ANY type of ring.
CORPORATE RING OPTIONS
Click here to view corporate style rings.